Sep 22, 2021
7 minutes to read
views
According to the consulting company McKinsey, 17% of IT projects are such failures that they lead to the companies' collapses, 7% are finished behind schedule, and 45% exceed their budgets. To avoid all this, managers include Business Analysts in their development teams. Let's consider facts and figures showing how a Business Analyst can help in reducing the total cost of a project at all stages of a software development life cycle.
How a Business Analyst affects the project profitability
Engaging additional experts in projects means financial costs for companies. But this is not true for the participation of a Business Analyst in the development of a software product. This specialist's work is aimed at ensuring that the costs invested in the development pay off and bring additional benefits:
an increase in the number of users,
the popularity of the product in the market,
the growth of the company's income.
The result of the impact of a Business Analyst's work on the project profitability can be calculated as a return on investment (ROI). To explain simply, an ROI is the difference between the value of a solution and its cost.

In a typical project, good business analysis affects both sides of the above ROI equation. A Business Analyst not only increases the value achieved by solving the business problem but also reduces the project implementation cost.
Most projects have a certain completion date, budget, and scope of work. This trio of time, budget, and scope is often called the project management triangle because when one element is changed, the other two change as well.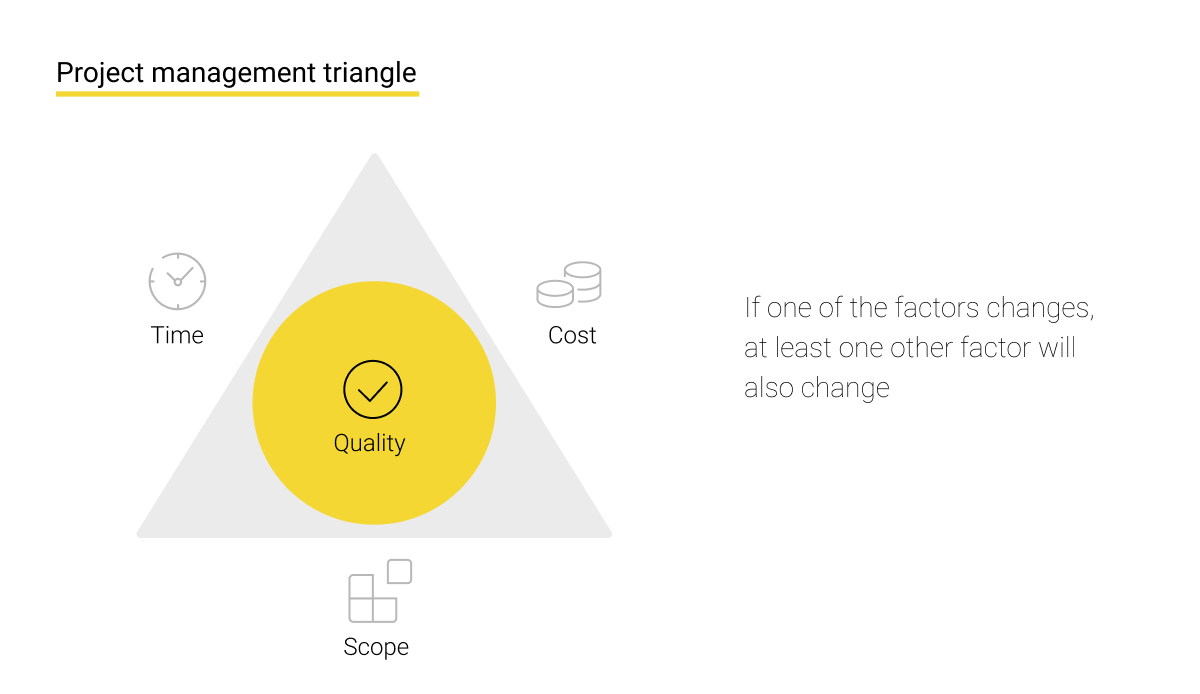 Although all three elements are equally important to a project, there is usually one of them, depending on the priorities, which has the greatest impact on the others. In this article, we are interested in how a Business Analyst reduces the cost of a solution - namely the cost of developing, building, and deploying a product.
How a Business Analyst reduces the total cost of a project
Let's consider the five ways a Business Analyst can reduce product development costs.
1. Performing high-quality requirements elicitation
Poor-quality and constantly changing requirements and inaccurate specifications complicate the project. Much of its success depends on well-written documentation.
According to data by Forrester, poorly defined business goals and product requirements result in 66% of projects failing and $30 billion in annual costs for US firms. If the requirements are defined poorly, this can undermine the competitiveness of an enterprise. Organizations that don't have clear documentation spend way more time, money, and resources than companies with well-defined requirements.
Business Analysts have the professional skills of extracting and documenting requirements that are validated with stakeholders. These activities are essential to properly elaborate the future solution and meet the needs of end-users in the best way.
In his book called Software Requirements, K. Wiegers named the following causes of failures at the stage of working with requirements:
insufficient user involvement,
skipped user classes,
escalation of user requirements,
ambiguous requirements,
heedless planning,
minimal specifications.
A proper business analysis mitigates these risks by helping developers create a product that users need and significantly improves project success rates.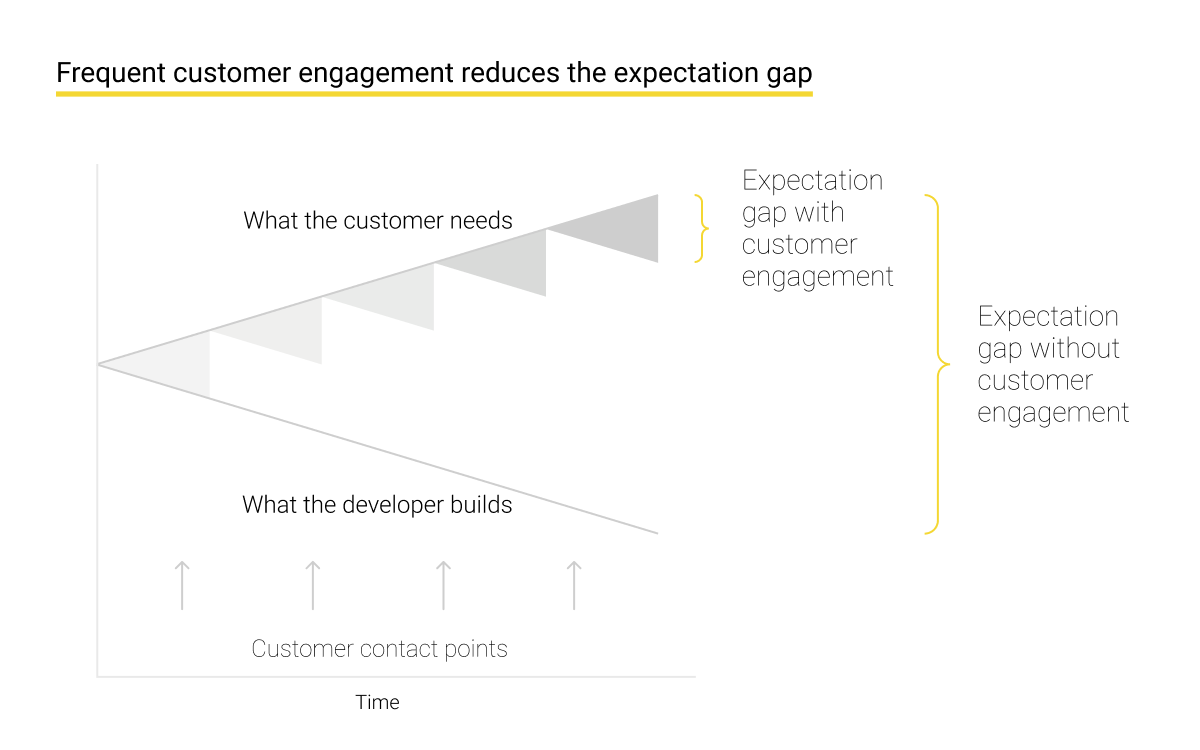 2. Reducing redevelopments
According to statistics, the cost of rebuilding a project can reach up to 40% of its original cost. In 70% of cases, this is associated with poorly written requirements. If Business Analysts formulate the requirements correctly, there will be fewer unnecessary alterations to the project.
Ensuring that requirements are carefully collected and documented and that all project stakeholders, both the customer and the development sides, participate in these processes from the earliest stage will result in fewer redevelopments.
The golden rule of testing is that the cost of fixing bugs at the early development stage is several times lower than at later stages. Experts from Carnegie Mellon University estimate the cost of rebuilding programs at 25-40% of the total project costs. A Business Analyst helps to avoid losses at the early stage of collecting and analyzing requirements - this specialist clarifies the software-related functionality with stakeholders and checks the documents for correctness.
The diagram of the cost of reworking a solution at different stages of development shows that fixing errors at the stage of collecting and documenting requirements is the cheapest.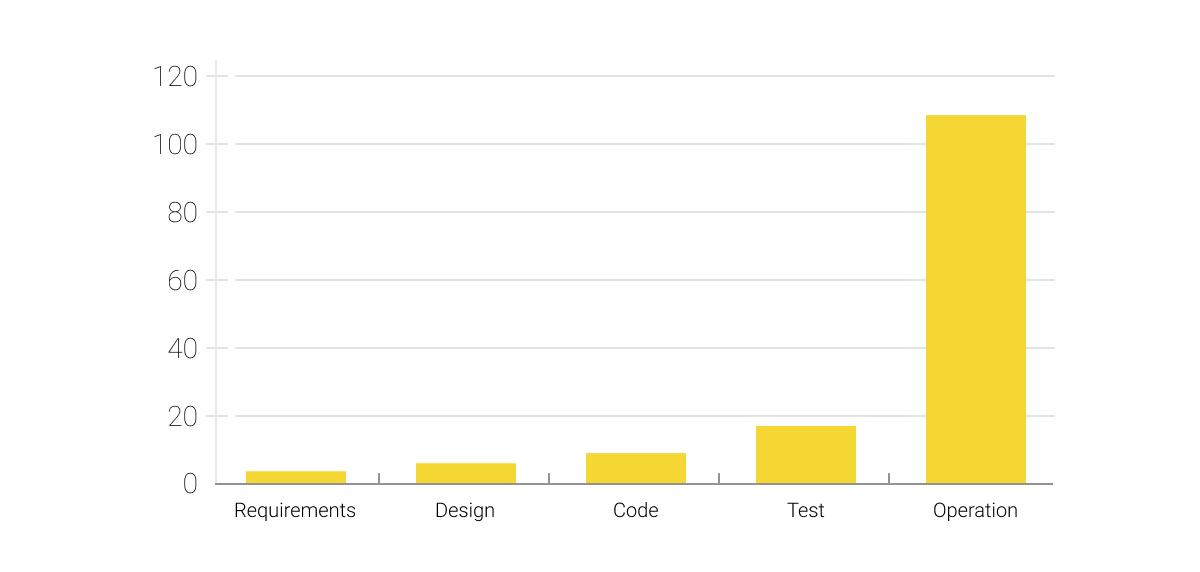 This data is confirmed by the results of international studies. According to Business Analysis Benchmark research, companies that implement effective processes of working with requirements enjoy the following benefits:
increase the likelihood of delivering their projects on time by 87%,
reduce the likelihood of exceeding their budgets by 75%,
increase the likelihood of delivering the systems that their business needs (hitting the business goals and user demands) by 75%.
3. Revealing redundant functionality.
Industry research shows that up to 40% of developed functionality is never implemented or used. Such wastefulness leads to higher development and maintenance costs of the solution since managing a large codebase is difficult.
The problem of redundant functionality is the result of poor business analysis in one of the following cases:
the requirements don't match the business needs,
the team develops additional features and elements that actually have no value to users (gold plating),
the requirements were just a list of user wishes and were not properly prioritized or checked.
By eliminating redundant functionality, a business can shorten the project and use the saved resources to develop more important processes, which will ultimately reduce project costs.
4. Saving stakeholders time
Stakeholders' time is valuable and shouldn't be wasted on unfruitful discussions. The role of a Business Analyst in the project team is dedicated to saving time. This specialist helps to:
make decisions,
identify open problems,
document agreements,
reduce the time to rephrase previous discussions,
summarize and quickly provide information to stakeholders in a quick report of agreements.
5. Finding more budget-friendly solutions
Business Analysts analyze problems to find and recommend cost-effective solutions to customers and thus reduce project costs. Quite often, Business Analysts come up with solutions that managers and other key stakeholders never thought of, ultimately saving the customer money.
When customers make decisions, they primarily focus on what functionality users need. A Business Analyst helps to gain a deep understanding of user demands, identify market trends, and build a product concept. This specialist is responsible for ensuring that the product meets these needs as much as possible and that the business earns a profit. The Analyst studies business processes, models options for their improvement, and provides competitor and market research services in order to select relevant and efficient solutions in terms of cost and implementation time.
Conclusion
Here are a few more figures proving the usefulness of a Business Analyst. IAG has estimated that, by including a Business Analyst in a project, you will reduce time overspending by 87%, prevent 75% of budget overspending, and reduce missed functionality by 78%. Burning Glass included the profession of a Business Analyst in the list of the most in-demand IT professions, ranking it 7th out of 25. Only developers, project and software managers, and system engineers are higher in this rating.
A Business Analyst creates product value at all stages of the software development life cycle. The participation of this expert is especially important in the early stages of work when they help to define the project scope, evaluate the work, and create a basic Backlog. These preparatory activities drive the project team to success, as its members act coordinately and in accordance with the plan.
A Business Analyst is also needed in the final stages of a project in order to successfully implement a product and maximize the benefits of new features.
The costs of including a Business Analyst in a project team fully pay off - with this specialist, you will avoid the potential risks and costs associated with poor product quality and downtime.
Andersen is a custom software development company that takes tough challenges and creates unique products. Our Business Analysts will work out your solution and conduct the discovery phase of the project, and the developers will help to bring it to life.
Our expert is ready to help you with complex processes. Schedule a free consultation.
Book a free IT consultation
What happens next?
An expert contacts you after having analyzed your requirements;
If needed, we sign an NDA to ensure the highest privacy level;
We submit a comprehensive project proposal with estimates, timelines, CVs, etc.
Customers who trust us
Book a free IT consultation